Welcome back to Memoir Monday—a weekly newsletter and monthly reading series, brought to you by Narratively, The Rumpus, Catapult, Longreads, Tin House, Granta, and Guernica. Each essay in this newsletter has been selected by the editors at the above publications as the best of the week, delivered to you all in one place. It may be the start of a new work week, but at least we have this great new writing to get us through it.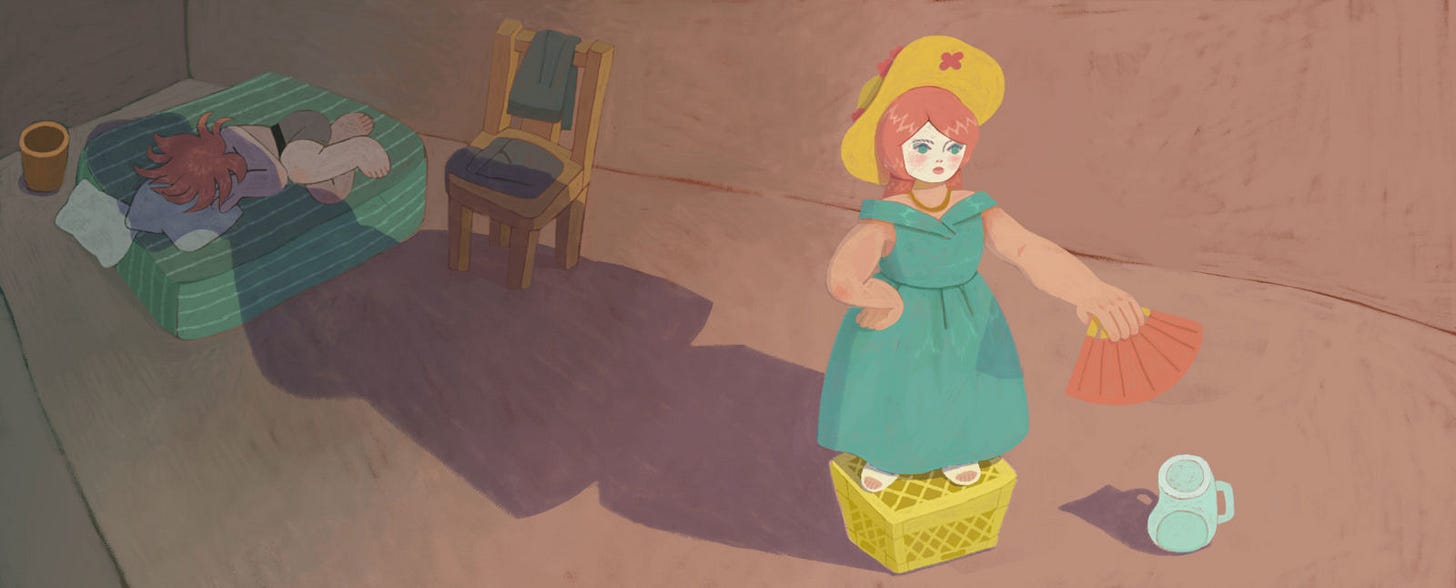 The Secret Life of a Professional Statue
by Rowan Sharp (art by Jie En Lee)
For a pleaser like me, statuing was a crash course in stubbornness. What sounds like the most passive trade imaginable — becoming an object, a literal living doll, refusing to move or speak — was, in fact, bizarrely, the opposite. It was exhausting, but it strengthened me. I left work aching and charged up. I learned, for the first time in my life, to refuse people. I learned that it felt good. That it got me somewhere.
Brigid, Magdalene, My Mother, and Me
by Carmel Mc Mahon
We ran away with a few hundred dollars and a few vague connections to join the lineage of emigrants from Ireland. People used to say, "Could the last one to leave, please turn out the lights!" A joke to lighten the burden of history. In New York, I gravitated to the East Village to be with the other immigrant kids who were writing poems and working in the cafes and bars. I knew, or half-knew, the ones from home, so how did I not know Grace? And how could this happen to one of us, in our own back-yard, at a church built by our own ancestors?
Squish Me Tender
by D. Mortimer
It was one of those nights in Soho where it felt like Soho is still a place where things happen when a car from a littoral dream glides past. I'm telling you at the sight of it our jaws went slack and our eyes widened. Wow just happened, which is how I know wow is truly onomatopoeic. The sublime synchronicity of the car's glamourous slow creep, the five suited men inside and the play of streetlight on licked silver: it was aghast-making. The car had been dipped in glitter and God! How it moved! The specks seethed on the car's body like beatific worms. I can't relay adequately what this car did to me. The feeling went directly from my eyes to my throat; it was entirely sensory. I don't know how to explain this reaction other than to say I had not experienced it before. I wasn't sure if I was having an orgasm or evolving.
Finding My Inner Piece: How Puzzles Ease My Anxiety
by Nicole Clark
Sort and assemble for long enough and it becomes the kind of engrossing that makes time pass without a nod at the clock. Each piece delivers a tiny packet of dopamine, direct validation for the achievement of a small goal. It encourages a state of flow, each piece clicking in with the smoothness of sight-reading a simple piece of music. Hours pass, locked into the momentum of pattern recognition. Suddenly there's an artery in the center of the puzzle, little veins branching out in color code. If you close your eyes you can imagine it building itself, like a time lapse of a perennial flower.
Parallel Planes: The Ghosts of Mothers and Daughters
by Becky Fine-Firesheets
I must force myself to listen. I am alone at this appointment—my husband and I had talked and talked about him taking the day off but finally settled on my coming alone. Everything about the pregnancy had been going so well. Besides, if there were signs of a disorder, we'd run more tests and figure it out. This appointment was not worth risking his new job.
No Country
by Andre Perry
What's worse, the enthusiastic, purposeful racist or the one who thinks they are not even capable of being racist, the one who could never imagine stepping on your sensitive, colored toes and is indeed offended when you have suggested they have done so?
---
Writers' Resources
Applications are open for the American Library in Paris Visiting Fellowship (spend a month in Paris working on your book!)
---
The November Memoir Monday reading is TONIGHT! Join us at Powerhouse Arena in Brooklyn for wine, prizes, and some incredible readings.
---
Thanks for reading! If you enjoy Memoir Monday, please consider making a one-time or recurring contribution (if even a fraction of subscribers signed up to contribute $1 per month, Memoir Monday could be self-sustaining!) by clicking here.
---
If you received this email from a friend or found it on social media, sign up below to get Memoir Monday in your inbox every week!
Until next Monday,